Make & Enjoy Art
Milo Farm inspires creativity in many ways. We hold classes and gatherings to release your artistic side and we offer pieces of art for your upliftment and contemplation. Our art collection is bound to grow so keep coming back to see what's new.
Nature Painting/Collage – We'll take a short hike and gather leaves, twigs, acorns, etc so we can use them in our nature painting/collage. We'll paint either in the Art Studio or out in the woods, then add nature elements to remind you of your time at Milo Farm. Or just paint a still life of a majestic tree in the forest that speaks to you. $30 each, comes with canvas to paint on and take home. Our paint & brushes can be used.
Fairy Houses – Build your favorite Fairy a house and then we'll hike into the woods to find a perfect spot for it so you can visit it every time you come to Milo Farm. Some Fairy is going to make it her dream home! Or if you'd rather take your masterpiece home to put in your own garden for your fairies there, you can ! $20 each, all materials to make the Fairy Home are provided.
Dragons Den Rocks – Drake, the Milo Farm Dragon, lives in the field near the burn pile past the Bunkhouse. He sometimes starts the burn pile on fire for us! He sleeps a lot, and sometimes flies over the land to protect it. He loves rocks, especially painted rocks. You can paint one to leave for him to enjoy, or paint a Milo Farm rock to take with you (or both). $10 each, rocks and paint/brushes provided.
Tie Dye – Create wearable art! Tie Dye classes for dying and painting shirts, jackets, tapestries, etc! Lots of rubber bands and blue fingers involved. You'll love to get to show off your piece of art. $20, you provide the shirt/jacket.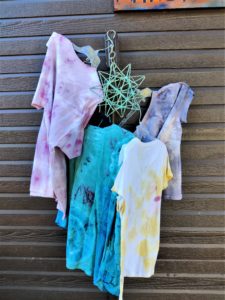 Enjoy Art: "We are excited to have one of Josh Brooke Cote's fine art wire sculpture commissioned pieces sitting prominently looking over the east field. Loni sketched the Milo Bunny as she saw it, holding a walking stick and the Milo mascot Scarlet Tanager named Cheryl. Josh executed it brilliantly. He added the antique 1800s Missouri home lightning rod as the walking stick and an antique wagon wheel as the base. View the sculpture up close just north of the lodge."