History and Story of Milo Farm
Milo Farm is 50 acres of sacred land just outside of Kansas City, MO that has a long history of mystical experiences from the Osage Indians to the Mormons. This land is engulfed in high positive healing energy. It's gift is a sanctuary retreat that is meant to fill one's soul. Milo Farm is a campground, organic farm, meditation refuge, art spot and more. Miles of trails, two stocked ponds, mythic forests. Events are held monthly. This land is dedicated to the evolution of every spirit that touches foot on it.
It came in our possession in 2015, when the vision started. As the building, clearing and creations evoluted it was clear that this magical place needed to be shared with others. The first 11 acres and old home was purchased first, then the old home was taken down and the new Bohemian lodge was built and completed in 2018.
A year was spent working with an architect and designing the Lodge; gathering unique pieces, picking cedars from the forest to use, etc. For instance Loni's Uncle, Jim Bernard, hand-forged the kitchen handles in Nebraska at his blacksmith shop. There are also antique and unique pieces from around Kansas City that adorn the home. For instance there is a large amethyst stone mortared into the fireplace, an old Muehlebach hotel door from the 1930s in the guest Hacienda suite, a fireplace screen from a home in the west bottoms welded into the railing and more!
The lower level of the Lodge was designed for guests that prefer more luxury then put on the Airbnb site. Two campsites were created, then the Hippie Trailer, then Bunkhouse for glamping. Freedom Field (west 22 acres) was purchased in July of 2021 to open the Milo experience to primitive camping and other open sky events.
Milo Farm non-profit 501(c)(3) was created in early 2022 for expansion of sustainability, art, agriculture, spiritual, health, community, ecology, and construction education to the public.
Loni is excited to have others experience the joy of Milo Farm. There are monthly events, membership and volunteer opportunities to partake in. Contact her for more information.
Milo Farm is just 30 minutes east of downtown Kansas City, in the eastern portion of Jackson county, MO, just north on the Grain Valley exit off of I-70. The Milo Farm name is fairly new but the acres it sits on is ancient.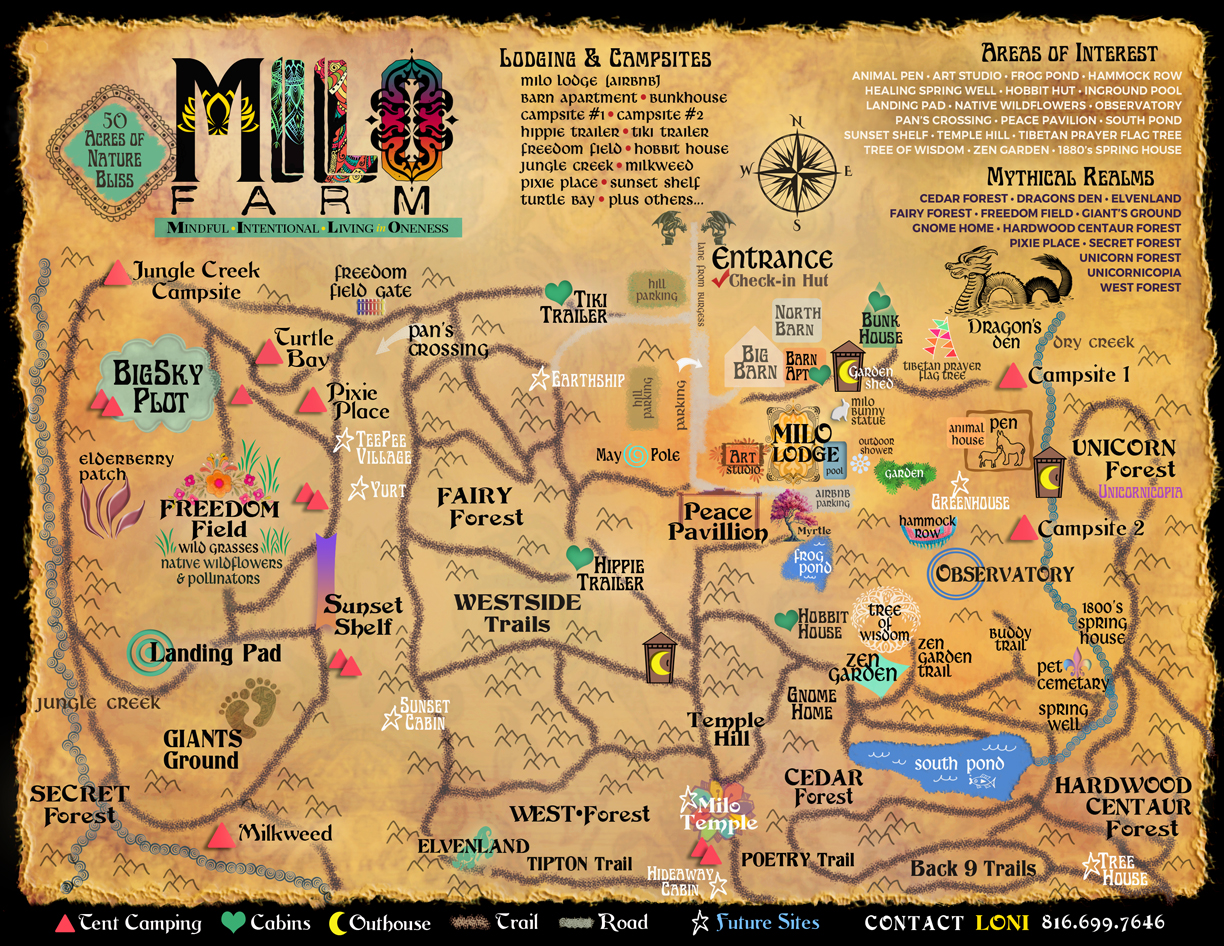 They were told that this land had been known as sacred land, with religious groups holding gatherings on the property, seeing heavenly visions and hearing guidance from above in the cedar forest.
A local historian shared the 1800s plat map showed a homestead in the east field near Camp Creek. The 1800s well and spring house is still on the land just northeast of the South Pond.
Just the drive up the 1/2 mile gravel lane to Milo Farm will make you feel like you are entering another world.